Mr. & Mrs. Chatterjee says:
Filed under: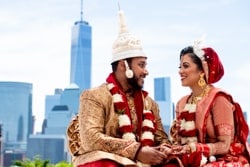 PhotoMadeEZ – Easily one of the best decisions for our daughter's wedding
Our daughter got married on May 18th at the Jersey City Hyatt with PhotoMadeEz as the official event photographers. Mou Mukherjee and team are very special. Yes, there photos and videos are out of this world, but interacting with them over these many months, we realized how passionate they are about their protography and videography. Working with them never appeared like working with a vendor, they were more like family who wanted us to have the best possible experience. Their experience with these events came through and was an immense help to us. We had a very strong vendor list and all the vendors that interacted with Mou's team were very happy and made it a point to let us know that. Getting applauded by your peers is the best review you can get. Mou and Abhra, thank you from the bottom of our hearts.